EDUARD AIGNER
EDUARD AIGNER (German, 1903-1978)
"Blondes Mädchen" (Blond girl), 1932
83cm X 68cm, Oil on canvas. Signed in the lower right corner " E. Aigner 1932″.
The "blond girl" corresponds with the 1926 painting "Inge" from Carlo Mense. "Inge" was published in 1928 on the cover of the popular weekly journal "Jugend"
(Jg. 33).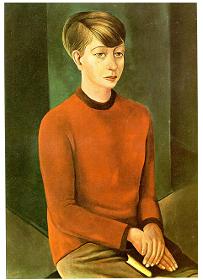 Source: www.jugend-wochenschrift.de
Eduard Aigner was born 1903 in Neuhaus a.d. Pegnitz (Gemany). He began training as professional lithographer in 1923, followed by studies at the Munich Art Academy at the drawing class of Becker Gundahl and Adolf Schinnerer. He travelled to Paris, Spain and Italy. In 1932 he received the "Albrecht Durer Award" of the city of Nuremberg. During the war, 1942 to 1945, he served as painter in the Wehrmacht. Together with Carl Theodor Protzen he was founder of the rather traditional artist group "Münchner Künstlergenossenschaft" (MKG) with regular popular exhibitions at the "Haus der Kunst", Munich from 1949 on. In 1978 Aigner died in Munich. In the same year, his artistic inheritance was sold at the Munich Arcades, where the present painting was acquired.