Otto Lange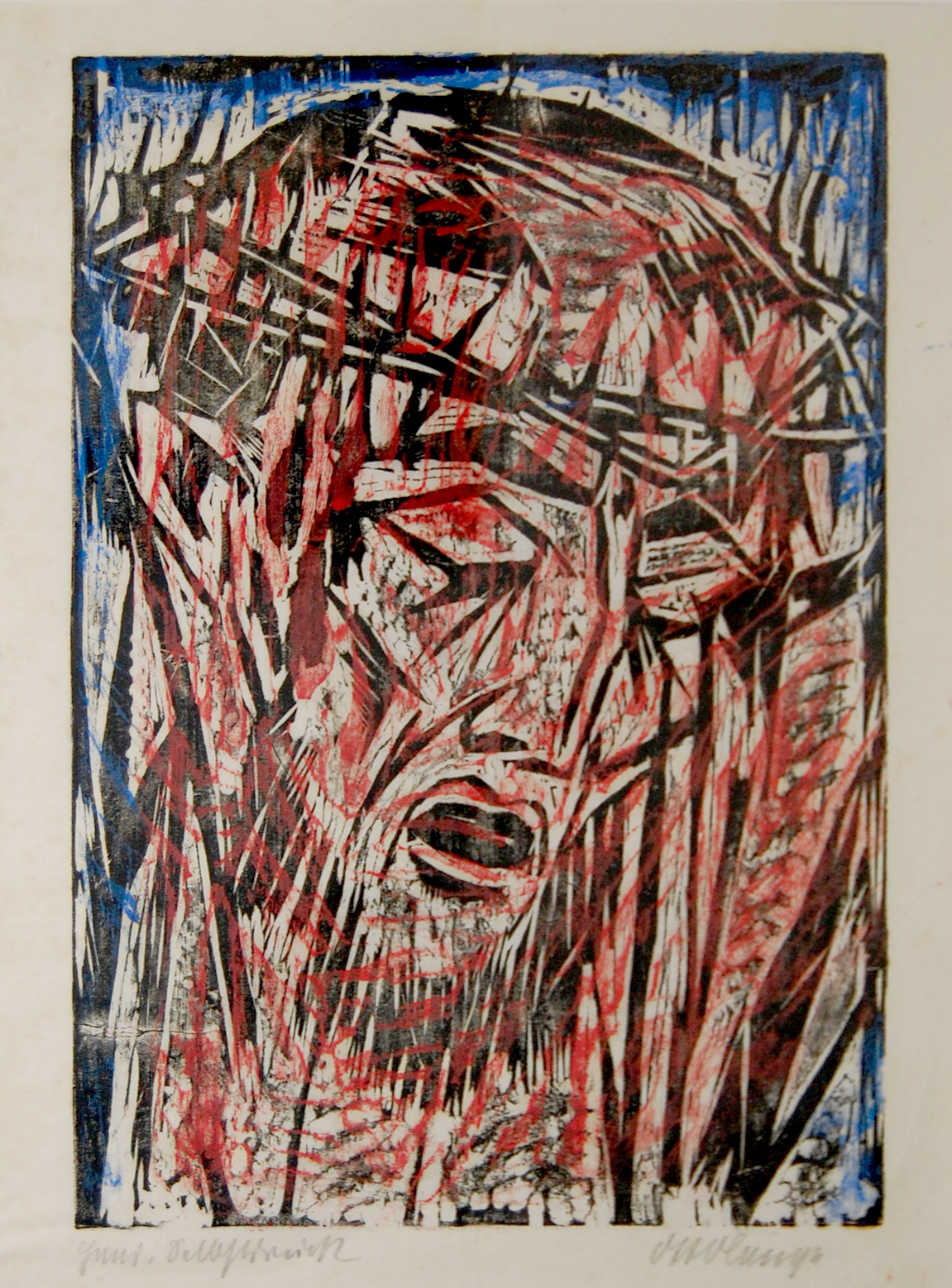 OTTO LANGE (German, 1879-1944)
"Christuskopf" (Head of Christ), 1916,  
36cm X 24,5cm, colour woodcut. Inscribed "Hand Selbstdruck" and signed "ottolange".
The "Head of Christ" is described by Dr. Walter Mueller-Wulckow in Boettgers Catalogue raisonne of OTTOLANGE from 1919.
To experience the impact of the print, Mueller-Wulckows described the pathos of the scenery:
"[…] Wie ist das Menschentum dieses Gemarterten in die Tiefe gezerrt / sein Geist aber und seine Guete, emporgestiegen ueber die Verwirrung, leuchten herab in die Finsternis. / Die Wangen zerfraß zwölfstündige Pein / der Mund blieb offen in sterbendroecheln / in den Höhlen erloschen sanken die Augen ein. / Gleich Todeskrallenzwischen den emporgerissenen Armen klammern sich die Dornen um die Schläfen / die Zweige zerschneiden die bleiche Stirn . / Im Todesschweiß kleben Haarsträhnen auf dem Haupt / und Blut hat das Antlitz überströmt. Das ist ein Mensch, der an den Menschen litt / auf dessen Haupt der Väter Schuld gekommen. […]"
Please compare to the Aquarelle "Portrait of a girl", 1920ies, Aquarelle on paper in the section
"Portait".
Otto Lange was born 1879 in Dresden.
He started out as decoration painter followed by studies at the Art academy Dresden as master student of Otto Gussmann.
After receiving the great Saxonian State Award, he was appointed teacher at the Royal Prussian School of
Applied Art in Bromberg (today Poland). In 1919 he returned to Dresden and became, together with Otto Dix ,
Conrad Felixmueller, Otto Schubert and Lasar Segall, cofounder of the "Dresdner Sezession Gruppe 1919".Lange was appointed Professor for textile design in Plauen. He lost his professorship in 1933 and 77 of his works
were confiscated in the campaign "degenerated art". Two of his works were shown at the "Degenerated Art" travelling exhibition in 1938. Lange died in 1944 due to an infection after an operation.