MICHEL FINGESTEN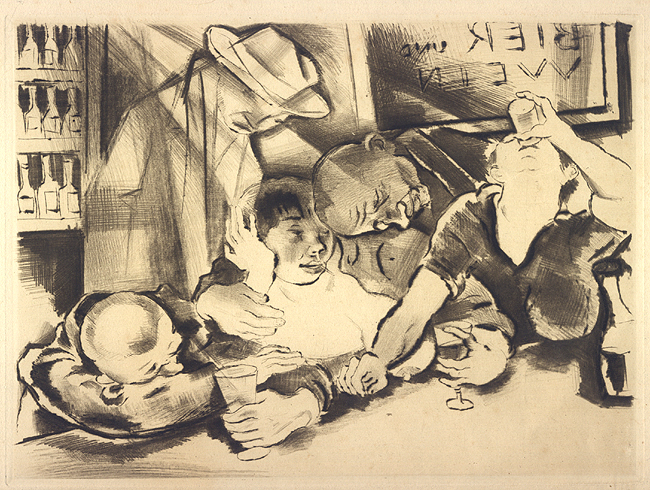 MICHEL FINGESTEN (Austrian, 1884- 1943)
"Die Trinker" (aus dem Album :"Aus den Spelunken Berlins") ("The drinkers"), 1919
30cm X 40cm, drypoint / etching on handmade paper. Not signed.
Michel Fingesten (born Finkelstein) was born in 1884 in Buczkowitz, Austria (today Czech Republic).
He started his studies at the art academy Vienna. After only two years in Vienna, in 1902 he started a journey to America where he wandered from town to town. On a merchant ship he then came to Australia. In 1906 he returned to Europe and landed in Palermo. From there he walked all the way to Munich where he took lessons at the Studio of Franz von Stuck.
After only one year in Munich, he started travelling again – now to Hong Kong and the Japanese and Chinese areas. Four years later, in 1913 he settled in Berlin. Fingesten destroyed all his previous works and began to concentrate on his graphic techniques. He joined the Neue Sezession of Max Liebermann. In the following years he illustrated books and made sets and albums with etchings. One of the albums were called "Aus den Spelunken Berlins" where the present print ("Die Trinker") is from.
With the beginning 1930ies, he focused on exlibris and smaller prints. In 1935 his wife and children immigrated to South America. Fingesten himself went to exile in Italy.
While residing in Italy, his art was declared "degenerate" through the Italian fascists in 1940. For having Jewish roots, he was arrested the same year in Milano. Fingesten was deported to an Italian camp for foreigners and died there in 1943 after an injury and infection.
Lit.: Parik, Arno: The Unkown Michel Fingesten
Paintings, Prints and Ex Libris from the Ernst Deeken Collection. Robert Guttmann Gallery, Prague, 2008.
http://www.jewishmuseum.cz/en/afingesten.htm 
Stilijanov-Nedo, I., Schmidt, R.,
Tittel, L., Museum Ostdeutsche Galerie, Regesburg: Von Chodowiecki bis zur Gegenwart,
Muenchen, 1993.