ALFRED HANF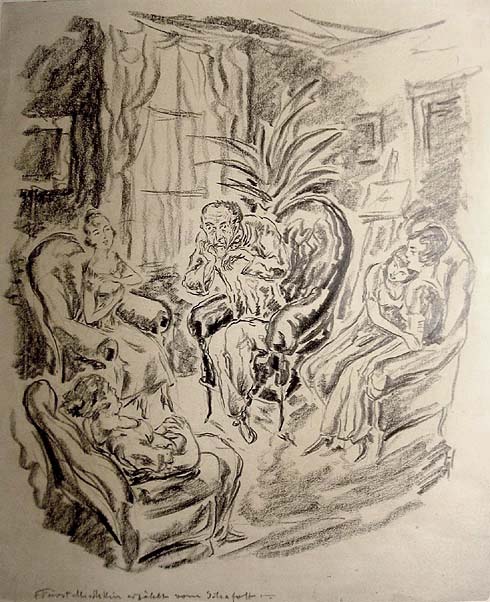 ALFRED HANF (German 1890-1974)
1910s to 1920s.
Left: "Prince Myshkin tells about the scaffold (Illustration of Dostojewskys "The Idiot").
In 1919, Alfred Hanf was founding member  of the expressionist artist group "Jung Erfurt". Other Members were Willy Kirch (see his work in the section "Landscape and Architecture") and Willy Robert Huth (see his work in the section "Portrait"). 12 of Hanfs works in the Anger Museum Erfurt were declared degenerated in 1937.
Also in the collection: "Standing nude", drawing on paper and Hinan zum Leben", coloured lithographs on paper. "Ecstasy", charcoal drawing on paper (left picture),  "Portraits and Selfportraits", lead pencil on paper (left picture below).
Alfred Hanf was born in 1890 in Erfurt. He studied to become drawing teacher. He began to study at the royal art academy  Dresden at the class of Prof. Carl Bantzer in 1912. After serving as soldier in WWI, he worked as drawing teacher in Erfurt. In 1919 he was founding member of the expressionist art group "Jung Erfurt". Other members were Walter Fernkorn, Willy Kirch, Theo Kellner, Otto Mehmel, Richard Bauroth, Curt Hotzel, Walter Passarge, W.R. Huth, Karl Schneider and Karl Luedecke. The group lasted until 1924. In 1937 12 graphic works of his from the Anger Museum were removed as "degenerated". After the war, Hanf worked as freelance painter and graphic designer in Erfurt. He died there in 1974.